Case IH Nutri-Placer 930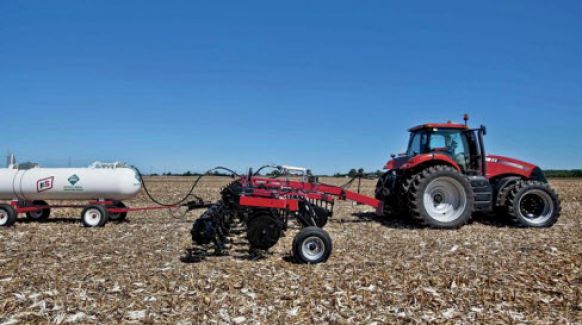 Double tap to zoom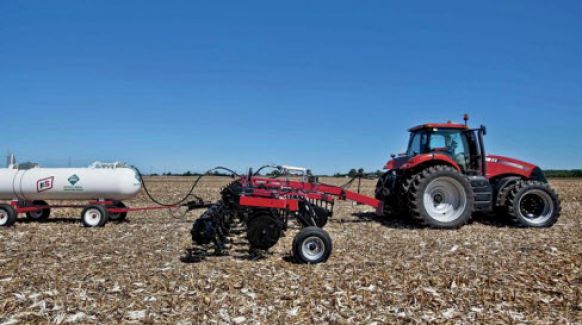 Features
New High-speed Low Disturbance Coulter Option
Capable of speeds up to 11 mph, the Nutri-Placer 930 fertilizer applicator with new High-speed Low Disturbance (HSLD) coulter allows you to cover 510 acres in a 12-hour day1. And this increased productivity is matched with superior agronomic performance. In extensive field testing, the HSLD coulter provided better residue cover and a more level surface finish than other coulter-style applicators available. Spring or fall, see why producers and professional applicators can count on the Nutri-Placer 930 HSLD to make the most of every acre, every application.
Where Productivity Meets Performance
The Nutri-Placer 930 HSLD places nutrients up to 6 inches deep in the root zone — when and where crops need it most.
New 22.6-inch single coulter cuts through residue with minimal soil disturbance for improved nutrient retention.
Industry's highest speed capability provides increased acres per hour, lower tractor hours and reduced fuel consumption.
Cast-iron components and reduced maintenance keep you in the field during fall, preplant and side-dress applications.

Create the Perfect Field Finish
Cuts through heavy residue without plugging — even at high speeds and in tough, fast-changing conditions.
In Case IH field testing, the Nutri-Placer 930 HSLD provided better residue cover, significantly fewer clods and reduced lateral soil movement compared with competitive coulter-style applicators.
Uniform surface finish preserves valuable ground cover in highly erodible land and heavy, no-till corn conditions.
Improves soil and moisture retention to reduce run-off and maximize crop uptake.

An Enhanced Row Unit
22.6-inch single coulter cuts through residue with minimal soil disturbance up to 11 mph. A 4-degree blade angle opens a precise slot for accurate nutrient placement.
Spring loaded, cast-iron knife features carbide inserts for extended wear and protection of fertilizer tubes. A rear Beaver Tail attachment with tungsten carbide weld ensures optimal fertilizer placement.
Wiper wheel holds soil in place while the coulter opens a slot. It also eliminates soil and residue buildup between the wiper and coulter blade.
Closing system features a SharkTooth® blade and walking tandem press wheel to firm the soil. No-tools required spring down pressure and pivot range adjustments make changes quick and easy.
Maximize Your Nutrient Uptake
Root zone banding technology makes your fertilizer investment count. Case IH Fertilizer Applicators place nutrients deep in the root zone where they are more readily available to plants during the growing season.
Ground Following Capabilities
Flexible wings follow the ground contour
Hydraulic system provides active down pressure on the Nutri-Placer 920 and Nutri-Placer 2800 models
Hydraulic single-point depth control
Customize Your Toolbar
High-Clearance shank option with adjustable holding power
Independent, pivoting coulters
Models featuring 15 or 30 in row spacing or flexible coulter spacing

Robust and Sturdy Frame
Rugged heavy-duty frame for increased toolbar strength
Engineered, rounded gussets placed according to detailed stress analysis
Forward mounted applicator frame for easy viewing of applicator
High underframe clearance for residue flow
Simple, reliable rear hitch hook-up
Self-lubricating, composite bushings on all wing pivots for long life and less maintenance

A Tank to Match Your Needs
Tank capacity ranges from 850 to 2,050 gal (3,218 to 7,760 L) depending on model.
Mounted Lengthwise for excellent visibility
Tank centered over frame for more stability
Tank is balanced so constant tongue weight maintained whether the tank is full or empty
2" or 3" tank fill, depending on model, for quick loading
Specifications
Make
Case IH
Case IH
Case IH
Model
Nutri-Placer 930 HSLD, 27.5 Ft.
Nutri-Placer 930 HSLD, 32.5 Ft.
Nutri-Placer 930 HSLD, 37.5 Ft.
Configuration Summary   
Ground engagement, Strip-Till or other
Single-disc coulter with injection knife
Single-disc coulter with injection knife
Single-disc coulter with injection knife
Fertilizer material: Dry, Liquid, or Anhydrous
Anhydrous
Anhydrous
Anhydrous
Working width, ft-in (m)
27' 6" (8.4)
32' 6" (9.9)
37' 6" (11.4)
Number of rows
11 rows
13 rows
15 rows
Row spacings, in (mm)
30 (762)
30 (762)
30 (762)
Hookup to tractor, Mounted or Pull-type
Pull-type
Pull-type
Pull-type
Method of folding for transport
Single fold
Single fold
Single fold
Liquid fertilizer tank capacity, gal (L)
No tank
No tank
No tank
Ground Engagement   
Coulter diameter, in (mm)
22.6 (574) angled 4 degreed
22.6 (574) angled 4 degreed
22.6 (574) angled 4 degreed
Residue tine wheels, Row cleaners
No
No
No
Shanks/knives
Knife, spring-loaded, carbide inserts and beavertail
Knife, spring-loaded, carbide inserts and beavertail
Knife, spring-loaded, carbide inserts and beavertail
Shank trip force, lb (kg)
np
np
np
Operating depth, in (mm)
4 to 6 (102 to152)
4 to 6 (102 to152)
4 to 6 (102 to152)
Sealing discs, closing discs, berm builder, in (mm)
13" (330) SharkTooth blade w/ 11" (279) cast closer wheel and press wheel
13" (330) SharkTooth blade w/ 11" (279) cast closer wheel and press wheel
13" (330) SharkTooth blade w/ 11" (279) cast closer wheel and press wheel
Conditioning basket, in (mm)
No option
No option
No option
Toolbar and Frame   
Toolbar rigid or flexible
3 Section flex, +16, -7 degrees
3 Section flex, +16, -7 degrees
3 Section flex, +16, -7 degrees
Depth adjustment
Single point handle
Single point handle
Single point handle
Rear trailer hitch
Optional constant level
Optional constant level
Optional constant level
Tires   
Main frame tire size
Single 320/70 R15 or Tandem 280/70 R15
Single 320/70 R15 or Tandem 280/70 R15
Single 320/70 R15 or Tandem 280/70 R15
Wing frame tire size
Single or Tandem 280/70 R15
Single or Tandem 280/70 R15
Single or Tandem 280/70 R15
Dimensions and Weights   
Transport width, ft-in (m)
16' 10" (5.1)
16' 10" (5.1)
16' 10" (5.1)
Transport height, ft-in (m)
10' 6" (3.2)
12' 4" (3.7)
13' 10" (4.2)
Basic weight, lb (kg)
np
np
np
Tractor power and hydraulics   
Power needed, hp (kW)
220 to 275 (164 to 205)
260 to 325 (194 to 242)
300 to 375 (224 to 280)
Drawbar/Hitch description
Drawbar Category 3 clevis
Drawbar Category 3 clevis
Drawbar Category 3 clevis std., 4 opt.
Number of remote hydraulic circuits
np
np
np
Sales Literature   
Literature number
CIH12201602
CIH12201602
CIH12201602
Literature date
12/1/2016
12/1/2016
12/1/2016
Other Documentation   
Document Number
NP-15016-16
NP-15016-16
NP-15016-16
Document Date
1/1/2017
1/1/2017
1/1/2017
Status and Dates   
Manufacturing Status
Current
Current
Current
First Entry Date
3/12/2017
3/12/2017
3/12/2017
Revision Date
--
--
--
Make
Case IH
Case IH
Model
Nutri-Placer 930 HSLD, 42.5 Ft.
Nutri-Placer 930 HSLD, 47.5 Ft.
Configuration Summary  
Ground engagement, Strip-Till or other
Single-disc coulter with injection knife
Single-disc coulter with injection knife
Fertilizer material: Dry, Liquid, or Anhydrous
Anhydrous
Anhydrous
Working width, ft-in (m)
42' 6" (12.95)
47' 6" (14.5)
Number of rows
17 rows
19 rows
Row spacings, in (mm)
30 (762)
30 (762)
Hookup to tractor, Mounted or Pull-type
Pull-type
Pull-type
Method of folding for transport
Double fold
Double fold
Liquid fertilizer tank capacity, gal (L)
No tank
No tank
Ground Engagement  
Coulter diameter, in (mm)
22.6 (574) angled 4 degreed
22.6 (574) angled 4 degreed
Residue tine wheels, Row cleaners
No
No
Shanks/knives
Knife, spring-loaded, carbide inserts and beavertail
Knife, spring-loaded, carbide inserts and beavertail
Shank trip force, lb (kg)
np
np
Operating depth, in (mm)
4 to 6 (102 to152)
4 to 6 (102 to152)
Sealing discs, closing discs, berm builder, in (mm)
13" (330) SharkTooth blade w/ 11" (279) cast closer wheel and press wheel
13" (330) SharkTooth blade w/ 11" (279) cast closer wheel and press wheel
Conditioning basket, in (mm)
No option
No option
Toolbar and Frame  
Toolbar rigid or flexible
3 Section flex, +16, -7 degrees
3 Section flex, +16, -7 degrees
Depth adjustment
Single point handle
Single point handle
Rear trailer hitch
Optional constant level
Optional constant level
Tires  
Main frame tire size
Tandem 320/70 R15
Tandem 320/70 R15
Wing frame tire size
Tandem 280/70 R15
Tandem 280/70 R15
Dimensions and Weights  
Transport width, ft-in (m)
18' 6" (5.6)
18' 6" (5.6)
Transport height, ft-in (m)
13' 6" (4.1)
13' 6" (4.1)
Basic weight, lb (kg)
np
np
Tractor power and hydraulics  
Power needed, hp (kW)
340 to 425 (254 to 317)
380 to 475 (283 to 354)
Drawbar/Hitch description
Drawbar Category 4 clevis std., 5 opt.
Drawbar Category 4 clevis std., 5 opt.
Number of remote hydraulic circuits
np
np
Sales Literature  
Literature number
CIH12201602
CIH12201602
Literature date
12/1/2016
12/1/2016
Other Documentation  
Document Number
NP-15016-16
NP-15016-16
Document Date
1/1/2017
1/1/2017
Status and Dates  
Manufacturing Status
Current
Current
First Entry Date
3/12/2017
3/12/2017
Revision Date
--
--