Cub Cadet TANK™ L 60 KW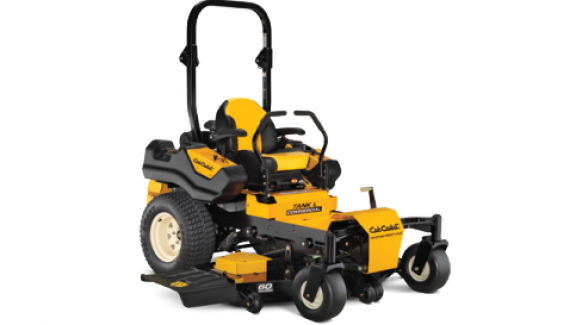 Double tap to zoom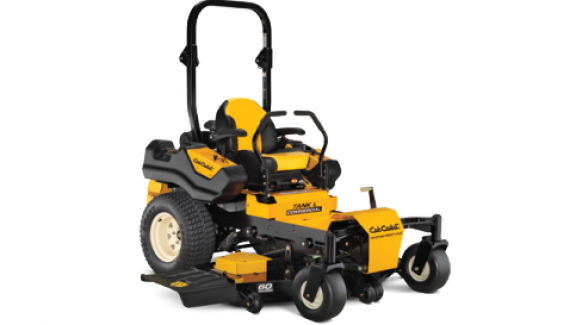 Features
2-year limited commercial warranty (no hour limitations) or 4-year/800-hour limited residential warranty
27 HP commercial-grade Kawasaki® FX Series V-Twin OHV engine
Best-in-class 60" sloped-nose fabricated mowing deck
Specifications
ENGINE
Engine Type: Commercial-grade Kawasaki® FX Series V-Twin OHV
Engine Displacement/Orientation:  852cc/Vertical
Engine Horsepower:  27 HP
Engine Fuel:  Gasoline
Lubrication/Filter: Full pressure w/spin-on oil filter
Cooling System:  Air
Air Cleaner:  Heavy-duty canister air filter
Alternator:  12V - 15 amp regulated
Fuel Capacity:  7.5 gal.
Fuel Gauge:  N/A
DRIVE SYSTEM
Transmission:  HTE PARKER™ Torqpact 10cc pumps and 240cc wheel motors
Ground Speed:  Fwd: 10.5 mph / Rev: 6 mph
Hydraulic Fluid:  Castrol Edge with Syntec Power 5W-50
Hydraulic Fluid Capacity:  7qt total
Hydraulic Oil Filter:  Indivual filter cartridges standard
Controls:  Adjustable lap bar system
Lap Bar Dampers:  Standard
Return to Neutral:  Standard
Braking/Parking Brake:  Dynamic drum, lever control
STEERING
Caster Wheel Pivot Bearings:  Ball bearing, greasable
Front Axle:  Pivoting steel axle
CHASSIS
Frame:  Heavy-duty rail frame 3/8" x 5" laser cut steel w/ tie-down slots
TIRES
Front Tire Size:  13" x 6.5" - 6" (smooth)
Rear Tire Size:  24 " x 9.5" - 12" (turf/smart traction tread/self clean)
 DIMENSINS
Length/Width/Height:  86.5"/49.5"/73.5"
Wheelbase:  54"
Front Track Width:  43"
Rear Track Width:  60"
Weight (approx.):  1,200 lbs.
MOWER DECK
Deck Size/Type:  60" sloped-nose
Deck Style/System:  Floating
Deck Blades:  Triple-blade/High-lift blade standard
Deck Construction:  10-gauge fabricated w/ 7- and 10-gauge reinforcements
Deck Drive:  Belt- Kevlar® B-section
Deck Lift:  Single pedal, spring-assisted
Deck Height Adjustment:  1" - 5" (in .25" increments)
Blade Spindle Construction:  Cast-aluminum
Deck PTO:  Electronic fingertip engagement
Front Anti-Scalping Wheels/Nose Roller:  2 standard, greasable/2-nose gauge wheels
ADDITIONAL SPECIFICATIONS
ROPS:   Standard ,foldable/2-position lock (ISO 21299, OSHA 1928)
Monitor/Hour Meter:  Standard
Seat Type:  Elasticity Vibration Control (EVC) comfort seat w/ armrests
Cup Holder:  Standard
Storage Box:  N/A
Rear Bumper & Hitch:  Heavy-duty rear bumper w/ hitch standard
WARRANTY
Warranty:  2-year limited commercial warranty (no hour limitations) or 4-year/800-hour limited warranty