Kubota M9960 Low Profile
/ NOT AVAILABLE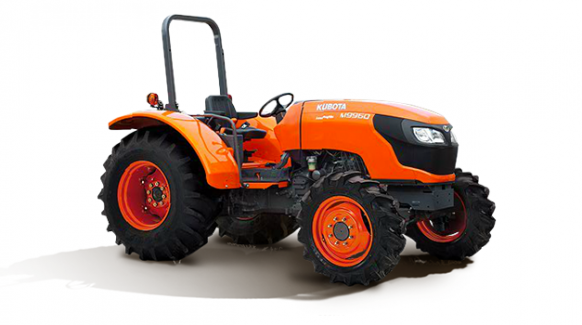 Double tap to zoom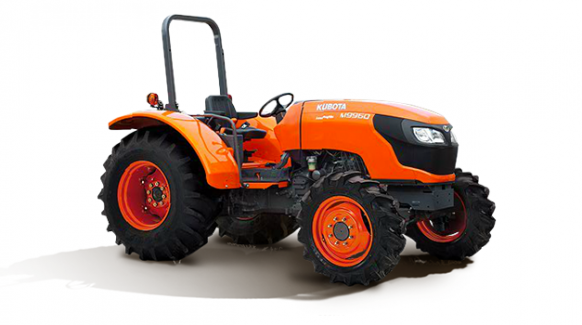 Features
Low Profile
Designed specifically for low-clearance applications, the M9960HDL delivers the performance you want, and the quality you demand. The low profile, retractable ROPS reduces overall tractor height to 67.4 inches (ROPS retracted). The tractor features low and wide fenders, a low reclining suspension seat, low controls, and a low steering wheel. This tractor keeps everything low to meet your high expectations.
Common Rail System (CRS) with Exhaust Gas Recirculation system (EGR) and Diesel Particulate Filter (DPF) Muffler
The CRS electronically controls the timing and amount of injected fuel providing high-pressure injections in
stages, rather than all at once for an optimal combustion rate that results in greater efficiency, better fuel economy and less engine noise. Its combination with the Diesel Particulate Filter (DPF) Muffler and Exhaust Gas Recirculation system (EGR) reduces harmful emissions to meet the latest emission regulations.
Low Noise and Low Vibration
To help reduce operator fatigue and stress, the CRS engines have been specially designed to minimize noise and vibration. This is accomplished through several innovative technologies. Noise is reduced through a ladder frame crankshaft support, giving the engines a stiffer structure and thus lower noise. Also a gear train on the flywheel side reduces the gear chattering noise caused by crankshaft torsion and bending. Vibration is lowered through the application of compact, built-in balancers.
Interim Tier IV Emission Regulations
The M9960HDL CRS engine complies with Interim Tier IV EPA emission regulations
Constant RPM Management
The M9960HDL engine features a new electronic governor that gives you electronic control of engine RPM. Activating the system keeps engine revolution constant, preventing drops in PTO speed and enabling stable
operation. It makes working with PTO-driven implements much more efficient.
Transmission
The transmission on the M9960HDL features six speeds on the main shift, as well as a high/low range, to offer a total of 12 Forward and 12 Reverse speeds. An optional cassette creep speed makes 18F/18R.
Adjustable Fenders
The rounded fenders of our low profile models provide two height settings depending on the tire size. The fenders are also free of lever guards and hazard lamps to prevent low-hanging limbs or branches from getting caught.
Heavy Duty Steel Fenders (Optional)
For added resistance to loose branches or low-hanging limbs, you can opt for rugged dent-resistant steel fenders.
LCD Readout
The LCD readout makes viewing the vital functions of your low profile tractor clear and easy. View travel speed, PTO revolution, and hour meter information digitally. Illuminated analog indicators include a large tachometer, temperature gauge and fuel gauge. A 4WD indicator and battery warning light also keep you informed.
Halogen Headlights with Corner Lamps
We've mounted the headlights higher to improve visibility, even during loader work. These halogen lights with corner lamps are efficient and provide excellent illumination.
Hydraulic Shuttle with Wet-Type Main Clutch
The Hydraulic Shuttle makes shifting between forward and reverse a smooth and quick operation. With the Hydraulic Shuttle, a column-mounted lever, conveniently located next to the steering wheel, does all the work. By eliminating the need to depress the clutch every time you change directions, you'll boost productivity. In addition, the Hydraulic Shuttle features a wet-type main clutch that helps provide long life.
Specifications