MacDon D65 Draper Header 25ft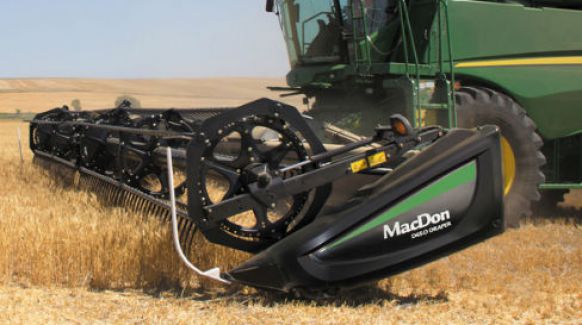 Double tap to zoom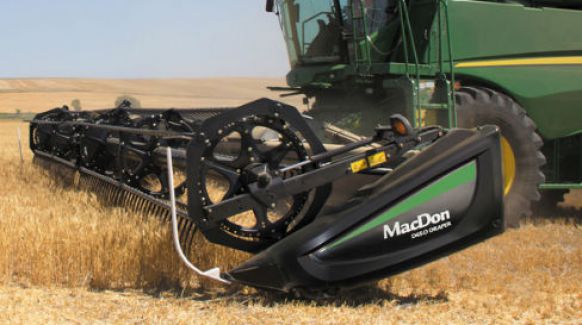 Features
CRITICAL GAP - ITS THE MACDON ADVANTAGE
The MacDon D65 combine header features a Dual Span (split) Reel. This design allows the reel to operate very closely to the cutting components in short or down and tangled crops even over rough, uneven ground without clipping the fingertips.
THE ACTIVE FLOAT FLOAT SYSTEM ADVANTAGE
The auto-header-height-control on combines is a reactive system, meaning that it needs time to "react" to changing ground conditions. For example if it takes 1 second to react, at 6 mph (10km/h) you will have already traveled 8' (2.5m). This lag may cause the header to get caught up on uneven terrain making for uneven cutting and/or unnecessary dirt ingestion. The active float system of the MacDon CA25 allows for instant response over all kinds of ground conditions.
MULTIPLE APPLICATION
MacDon's D65 Draper Headers can be used for direct cutting with most current model combines using the CA25. The D65 can also be used with MacDon 5 Series Windrowers for swathing canola, forage, and other specialty crops. Available in both single and double knife versions and in widths from 25' (7.6m) to 40' (12.2m).
REEL FORE-AFT - HYDRAULIC POSITIONER
Adjust the reel position to changing crop and field conditions on-the-go from the cab.
EXTRORDINARY REEL DESIGN
MacDon's patented PR15 pick-up reel has been engineered to deliver optimal performance. The remarkable movement of this reel provides aggressive yet gentle finger action, resulting in the best pick-up action and crop recovery in the industry. Along with 4 cam positions, header tilt control, and fore-aft reel positioning, this reel can be specifically adjusted to meet your harvest conditions.
PARKER HOSES AND COUPLERS
By using high quality Parker hoses throughout the D65, we have been able to provide the most reliable Draper Header to date.
33% INCREASE IN DRAPER TENSION
The D65 was modified to allow the drapers to be tensioned up to 33% more than previous D60 headers, improving the drive to drapers for handling the heaviest of crop loads.
KNIFE STORAGE
A spare knife can be ordered and installed into the back-tube of any size of D65 Draper header at the factory.
IMPROVED VISIBILITY, CLEAN DESIGN, OPERATING CONVENIENCE
Visibility of the float and tilt has been improved. Mounting the tilt indicator directly on the cylinder with a simplified design makes it easier for the operator to see. Automatic header height control and hydraulic header tilt are now standard features on all 5 Series Drapers.
CUTTERBAR POLY
This kit is a compression molded component that has very high wear characteristics. It is used when cutting low podding crops like soybeans, lentils, or other lodged crops. The smooth design characteristics make this kit ideal for muddy harvesting conditions by reducing the likelihood of mud building up on the cutterbar.

This kit is not standard on all headers, but is available for all header sizes.
REEL END SHIELDS REDESIGNED
The reel endshields were redesigned for less carryover of crop and to allow more clearance between the reel and header endshields.
ROBUST REEL DRIVE
The MacDon pick-up reel is the most robust on the market. The special cam arms are manufactured in cast-iron to ensure it can withstand the toughest crop conditions.
REEL POSITIONER INDICATOR
Reel position can be critical to the performance of your header in certain crops. Simple reel positioner indication is offered to allow your operators to better determine where their reel works best.
DRAPER SEAL
A draper seal is built into both of the side drapers and travels the entire length of the c-shaped cutterbar, preventing and crop residue from entering the underside of the drapers.
V-GUIDE DRAPER TRACKING
Critical to keep your drapers tracking straight, preventing premature wear to the drapers.
Specifications
| | |
| --- | --- |
| Size | 25 ft (7.6 m) |
| Weight * - Single Knife Drive w/CA25 Combine Adapter | 5717 lb (2590 kg) |
| Weight * - Double Knife Drive w/CA25 Combine Adapter | - |
| Knife: Type / Drive / Speed | Single or double knife (depending on size and application) / Hydraulic, MacDon design enclosed oil bath WOBBLEBOX (es) / Single knife combine 1050 to 1400 SPM, double knife combine 1100 to 1700 SPM (speed varies depending on header size, faster knife speed on smaller headers or double knife headers) |
| Guard Types Available | Pointed DHT (double heat-treated), stub SM (sheet metal hold-down, forged bottom guard), stub F (forged top and bottom) |
| Reel: Type / Drive / Speed / Fingers | Model PR15 pick-up reel, 5 or 6 bat, 2 piece (double) or single, flip-over design, cam-leading finger control / Hydraulic / combine 0 to 67 RPM (varies depending on combine model) / HD plastic, 6 in (152 mm) spacing, 11 in (279 mm) length |
| Conveyor: Type / Drive / Speed / Delivery | 41.6 in (1057 mm) wide 24 oz (680.4 g) rubber skim-coated drapers, reversible double V-guide with tracking, integral seal on leading edge / Hydraulic / Combine 0 to 464 ft/min / opening width 60.6 in (1539 mm) to 76.7 in (1948 mm) |
| Field Installed Options | Customized kits for crop, land, road and harvesting requirements: stabilizer wheels, transport package, upper cross auger, hydraulic header tilt (standard on combine configurations), cutter bar poly |
|   |   |
| CA25 Combine Adapter Specs | Centre Draper |
| Size | 78.7 in (2000 mm) width |
| Weight | Approximately 2050 lb (930 kg) |
| Type | Self tracking rubber coated polyester fabric feed draper with rubber slats, hydraulic drive (reversible) |
| Speed | 350 to 400 ft/min (107-122 m/min) |
| Header Flotation: Type / Vertical Range / Lateral Range (tilt) | 2 pairs coil springs, independent adjustment (single point at either side of adapter), transport lock-out / 7 in (178 mm) / 4.8 degrees |
|   |   |
| CA25 Combine Adapter Specs | Feed Auger |
| Size | 65.3 in (1660 mm) width |
| Weight | varies by combine model |
| Type | Floating auger, mechanical drive (reversible), removable retracting fingers with full-retraction when reversing |
| Speed | 150 RPM, varies with combine model |
| Header Flotation: Type / Vertical Range / Lateral Range (tilt) | 2 pairs coil springs, independent adjustment (single point at either side of adapter), transport lock-out / 7 in (178 mm) / 4.8 degrees |
*Please note all listed weights are approximations and will vary depending on header configuration.