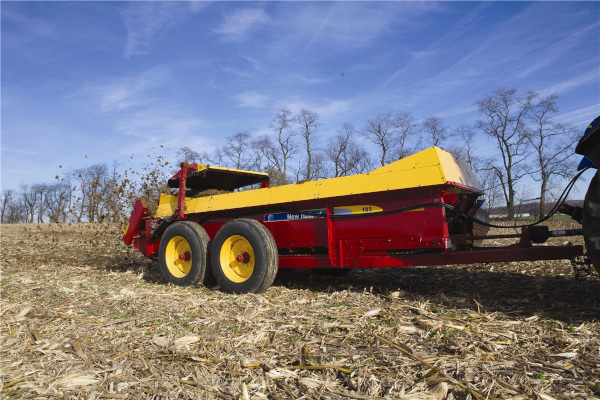 Features
PROVEN STRENGTH
New Holland box spreaders are known for being built to last. They have durable floors and sides made from special corrosion-resistant steel for strength load after load.
12-YEAR BONDED PROTECTION PLAN
New Holland box spreaders come with a 12-year Bonded Protection Plan that guarantees the floor and sides for peace-of-mind and better resale value.
CAPACITY FOR YOUR OPERATION
Five models, with 215- to 444-cubic-feet of capacity, are available to match the needs of your operation.
EASY SPEED CONTROLS
Set apron speed from your tractor seat with the standard rotary quadrant control. Adjust from neutral, slow unloading, fast unloading, and cleanout. An optional hydraulic drive on the 185 and 195 provides even more variation in spreading rates.
BOX SPREADERS
ENGINEERED FOR DURABILITY
Building the best box spreaders in the industry means providing the rugged construction needed for reliable performance. It starts with extra steel frame members in the spreader's undercarriage for increased box strength, plus, standard heavy-duty axles with high-strength steel plates and spindles for reduced frame stress.
STURDY STEEL ADDS STRENGTH
The A-frame hitch made of high-strength, lightweight steel extends far back under the bed. This directs pulling forces to the axles and carries the load instead of pulling it. The brawny, formed steel frame member protects the front of the floor. For easy servicing, the box spreader's axles are a separate component from the box.
LONG-LASTING CORROSION-RESISTANT SIDES
With sides and endgates made of special steels, New Holland box spreaders are four times more corrosion-resistant and twice as strong as ordinary steels. These maximum-strength side sheets are designed without ribs for easy-cleaning. Optional slurry sides — a New Holland exclusive — increase capacity by approximately 25 percent and reduce splash over.
LOW MAINTENANCE FLOATING FLOOR
A unique floating floor, made of 3/4-inch x 6-inch high-density polyethylene tongue-and-groove planks, expands and contracts without putting stress on the frame or sides for less box spreader wear. The rugged floor is acid- and mold-resistant, plus it won't rot, warp, chip, crack, peel or splinter, making it extremely low maintenance.
CUSTOMIZABLE FEATURES
Choose either heavy-duty T-rod or pintle-type apron chains to match your spreading conditions. With convenient rotary quadrant control, the operator can set the apron speed from the tractor, including neutral, slow-unloading, fast-unloading or clean-out positions. An optional hydraulic drive on models 185 and 195 provides even more variable spreading rates.
MORE HEAVY-DUTY FEATURES
Additional New Holland box spreaders features include:
• A rugged, heavy-duty jack mounted inside the hitch channel for added protection swings out of the way for transport.
• Up to 12 high-strength steel beaters that minimize breakage.
• Bolt-on paddles that provide knife-like cutting and shredding actions for a wide, fine spread pattern.
• A reliable straight-line, V-belt drive runs quietly and smoothly, eliminating the need for a slip clutch.
INDUSTRY-EXCLUSIVE GUARANTEE
Standard with every New Holland box spreader is a special Bonded Protection guarantee on the floors and sides for twelve years. This no-hassle guarantee offers free replacement of the floor or sides if they fail within twelve years of the original dealer purchase. No one else offers this type of protection.
Specs
185 
Capacities (ASAE Ratings according to ASAE Std. ASAE S324T) 
Heaped, single beater, cu. ft (m³)
278 (7.87)
Heaped, double beater, cu. ft. (m³)
342 (9.68)
Struck level, cu. ft. (m³)
170 (4.81)
Struck level, slurry sides, cu. ft. (m³)
225 (6.37)
Bushels - Old Rating
275
Maximum net load lb. (kg)
13,000 (5897)
Dimensions 
Inside width of bed, inches (m)
60.9 (1.55)
Overall width, inches (m)  (w/11.00x22.5 tires)
97 (2.46)**
Inside bed depth, top of flare, inches (m)
22.6 (0.58)
Inside bed length, inches (m)
192 (4.48)
Overall length, inches (m)
268.1 (6.81)
Height to top of upper beater, inches (m)
62.8 (1.59)
Wheel tread, inches (m)  (w/11.00x22.5 tires)
82 (2.08)
Tractor requirements+ 
Power, minimum PTO horsepower (kW)
60 (45)
PTO speeds, RPM
540/1,000++
Number of Apron Speeds 
Mechanical drive
2 (plus 1 slow-speed option)
Hydraulic drive
Infinite
Speeds
-
Fast fpm (mpm)
8 (2.44)
Slow fpm (mpm)
4.5 (1.37)
Optional Slow fpm (mpm)
2.24 (0.68)
Hydraulic fpm (mpm)
1-13 (0.3-3.9)
Number of Beater Paddles 
Number of Beater Paddles
12
Weight 
Hubs only, pounds (kg)
2,670 (1214)
Apron chain availability 
T-Rod
Standard
Pintle
Optional
Pintle chain, single
D667-X Heavy Duty
Pintle chain, double
NA
Hydraulic drive orbit motor displ. in³/rev (cm³)
5.9 (96.7)
Hydraulic drive orbit motor flow limit gpm (lpm)
15 (57)
Hydraulic drive flow divider relief pressure psi (bar)
2000 (138)