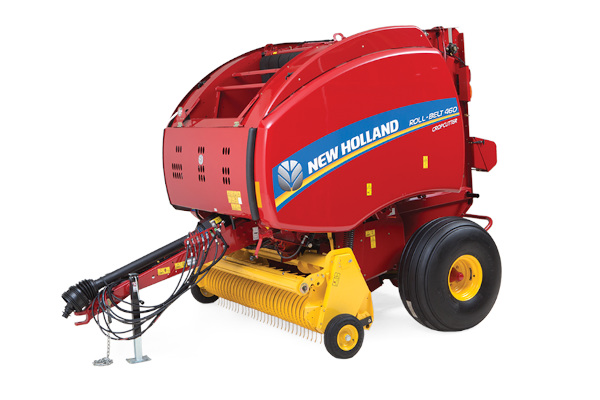 Features
DENSITY IS THE DIFFERENCE
The Roll-Belt design can build the industry's densest bales to help lower your operating costs.
INNOVATION THAT PACKS PAYBACK
Durable pickups, smooth feeders, and heavy-duty rolls partner with short, tough belts for fast core starts and uniform bales in any crop type.
DESIGNED WITH YOU IN MIND
Standard features like banked grease zerks, hydraulic pickup lift, a premium cut-out clutch and wide-opening shields ensure that you stay productive.
PRECISION TOOLS THAT ENHANCE YOU
PLM™ solutions, like IntelliBale™ baler automation, in-cab density control and factory-installed moisture sensing help you produce better bales.
STANDARD FEATURES
DESIGNED WITH YOU IN MIND
To ensure that you stay productive, Roll-Belt™ round balers have a wide array of standard features designed with you in mind. In fact, even base models come with more standard features than the competition. From new styling that provides you with greater visibility for improved safety and servicing to simple features that increase your productivity, like banked grease zerks and a standard hydraulic pickup lift, you can rest assured that you'll be ready to roll as soon as the conditions are right.
ALL POWER. NO HASSLE.
A premium cut-out clutch is standard on all models. Unlike a slip-clutch, this clutch maintains power and remains cool while baling. When it needs to protect the baler's driveline, power is immediately cut-out without slip. To restart, simply lower the speed or restart the PTO to lock the clutch, and then get back to baling.
WIDE-OPEN SERVICING
Lightweight gull-wing style side doors and front shield open vertically to provide full access to the baler. The yellow-painted chassis is a nod to New Holland round baler heritage, but also provides you with greater visibility from an operational, service and safety perspective.
FAST AND SIMPLE DAILY MAINTENANCE
Daily maintenance is fast and easy. All models are outfitted with clearly-labeled grease and chain lubrication decals. Even better, banked grease zerks offer ground-level service for hard-to-reach components.
HITCHED TO BENEFITS
For added safety and to prevent hay from catching the pin, a top-locking hitch pin is provided. To ensure the baler's height is matched perfectly with your tractor, an adjustable hitch is standard.
ORGANIZED CONNECTIONS
A factory-supplied support keeps hoses and wires clear of the driveline and pinch points, allowing you to make sharp, worry-free turns.
Specs
| | |
| --- | --- |
| Roll-Belt™ 460 |   |
| Bale Size |   |
| Diameter, in. (cm) | 36-72 (91.5-182) |
| Width, in. (cm) | 46.5 (118) |
| Weight, lbs. (kg) | 400-2,300 (181-1043) |
| Density Pressure, psi (kPa) | Adjustable |
| Baler Dimensions and Weights |   |
| Overall length, tailgate closed, in. (cm) | 189 (481) |
| Overall height, tailgate closed, in. (cm) | 113 (287) |
| Shipping weight*, lbs. (kg) | 6,553 (2972) *CropCutter with 21.5L tires |
| Bale Forming Chamber |   |
| Floor roll (ActiveSweep) in. (cm) | 8 (20.3) |
| Floor roll (Rotor), in. (cm) | 12 (30.5) |
| Floor roll (SuperSweep), in. (cm) | 12 (30.5) |
| Forming rolls, in. (cm) | 3 rolls, 10 (25.4) |
| Stripper roll, in. (cm) | 10 (25.4) |
| Starter roll, in. (cm) | Embossed surface |
| Bottom tailgate idler roll, in. (cm) | 5.5 (14) |
| Belts |   |
| Number of belts | 6 |
| Belt width, in. (cm) | 7 (18) |
| Belt length, in. (cm) | 421 (1068) |
| Surface type (dependent on belt type) | Mini Rough Top / Self-cleaning |
| Endless belts | Std. on rotors, Silage Special, and Bale-Slice. Opt. on Dry Hay. |
| Wrapping System |   |
| Twine application | Dual twine arms |
| Twine control | Automatic, electric |
| Twine box | 6 active balls |
| Additional twine storage | 4 balls |
| Net Wrap | EdgeWrap™ net wrap system, 3 roll capacity |
| Bale Forming Indicators |   |
| Standard Indicators | Bale size, left/right driving gauges, twine movement, twine arm position, bale counter, |
|   | bale ejector, hydraulic pressure gauge, hydraulic bale ramp (460), tailgate latch |
| Tire Options |   |
| Implement tires | 31 x 13.5-15 8 PR (N/A on rotor models) |
| Low profile flotation tires | 18L x 16.1, 10PR |
| High profile flotation tires | 21.5L x 16.1, 10PR |
| Tractor Requirements |   |
| PTO HP (minimum), hp. (kW) | 70 (52) |
| PTO speed, rpm | 540 or 1,000 |
| Driveline protection | Cut-out clutch or slip clutch |
| Hydraulic remote requirement | 1 to 4 |
| PICKUP SPECIFICATIONS - SuperSweep™ Pickups |   |
| Overall width, in. (cm) | 88 (224) |
| Width, tine-to-tine, in. (cm) m | 60 (152) 1.5 |
| Width, flare-to-flare, in. (cm) | 68 (174) |
| Tine spacing, in. (cm) | 2.6 (7) |
| Tine bars | 4 |
| Number of tines | 96 |
| Reel diameter, in. (cm) | 12 (30.5) |
| Pickup protection | Multi-plate slip clutch |
| PICKUP SPECIFICATIONS - ActiveSweep™ (Standard-Duty) Pickups |   |
| Overall width, in. (cm) | N/A |
| Width, tine-to-tine, in. (cm) m | 71 (180) 1.8 |
| Width, flare-to-flare, in. (cm) | 79 (202) |
| Tine spacing, in. (cm) | 2.6 (7) |
| Tine bars | 4 |
| Number of tines | 112 |
| Reel diameter, in. (cm) | 12.5 (31.5) |
| Pickup protection | Multi-plate slip clutch |
| PICKUP SPECIFICATIONS - ActiveSweep™ (Heavy-Duty) Pickups |   |
| Overall width, in. (cm) | N/A |
| Width, tine-to-tine, in. (cm) m | 71 (180) 1.8 |
| Width, flare-to-flare, in. (cm) | 79 (202) |
| Tine spacing, in. (cm) | 2.6 (7) |
| Tine bars | 5 |
| Number of tines | 140 |
| Reel diameter, in. (cm) | 12.5 (31.5) |
| Pickup protection | Multi-plate slip clutch |
| PICKUP SPECIFICATIONS - SuperFeed™ Pickup |   |
| Overall width, in. (cm) | N/A |
| Width, tine-to-tine, in. (cm) | 71 (180) |
| Width, flare-to-flare, in. (cm) | 79 (202) |
| Tine spacing, in. (cm) | 2.6 (7) |
| Tine bars | 5 |
| Number of tines | 140 |
| Reel diameter, in. (cm) | 12 (31.5) |
| Pickup protection | Cut-out clutch |
| PICKUP SPECIFICATIONS - CropCutter® Pickup |   |
| Overall width, in. (cm) | N/A |
| Width, tine-to-tine, in. (cm) | 71 (180) |
| Width, flare-to-flare, in. (cm) | 79 (202) |
| Tine spacing, in. (cm) | 2.6 (7) |
| Tine bars | 5 |
| Number of tines | 140 |
| Reel diameter, in. (cm) | 12.5 (31.5) |
| Pickup protection | Cut-out clutch |