New Holland LM5.25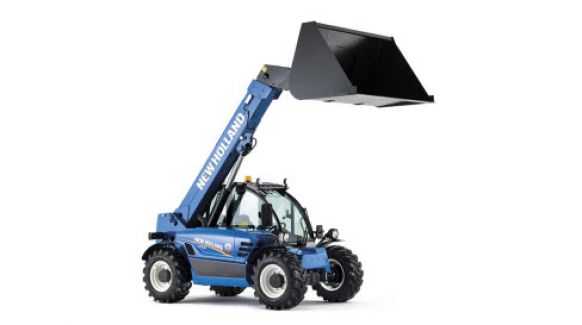 Double tap to zoom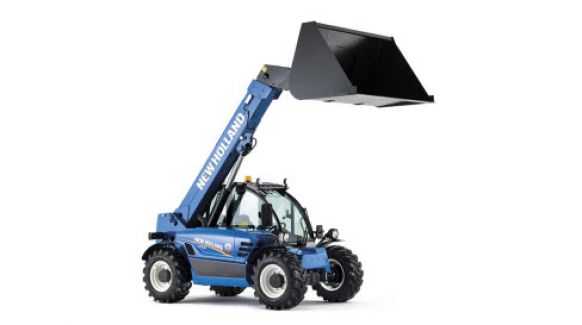 Features
SMALL IN SIZE, BIG IN PERFORMANCE

The new LM Series compact telehandlers work well in tight spaces and enable you to get the job done in hard-to-reach areas. The 75-hp LM5.25 and 101-hp LM6.28 measure just 70.8 and 79.2 inches wide respectively. With a turn radius as small as 11.2 feet, these compact handlers can operate in tight spaces. Heights of just 78 and 79.2 inches enable either machine to work in low buildings such as poultry houses. But do not think compact dimensions mean limited capacity. The LM5.25 and LM6.28 have maximum capacities of 5,512 and 6,172 pounds, and maximum lift heights of 18.9 and 20.8 feet respectively. This combination of maneuverability and performance makes these telehandlers more versatile than a tractor with a loader, and more efficient than a larger skid steer loader, ideally suited for mixed farming.
RESPONSIVE POWER.
The 75-horsepower LM5.25 should not be taken lightly since it combines a narrow working width of 70.8 inches with a lift capacity of 5,512 lbs. (2,500 kg) and a lift height of 18.9 feet. The LM6.28 incorporates more stability and power with a working width of 79.2 inches and a 101-hp engine. With a 20.8-foot boom and a lift capacity of 6,172 pounds, the LM6.28 is able to handle all your jobs in those confined spaces.
BUILT TO LAST
Manufactured to exacting quality standards, New Holland compact telehandlers are really simple to look after. You can complete daily checks within a few minutes and, when a service is required, the thoughtful design makes access to filters and key components simple.
SPACIOUS CAB. 360° VISIBILITY
A spacious cab – larger than most competitive compact models – contradicts the compact size of these machines. With 12.3 square feet of glass on the LM5.25 and 13.4 square feet of glass on the LM6.28, 360-degree visibility comes as standard equipment. The standard air conditioning system has a large condenser that provides high levels of air flow through the five position-controlled air vents to ensure whole-body climate control in all temperatures. In order to provide additional visibility in low light conditions, a work light package including front, rear and boom lights is available on the LM5.25 and comes as standard equipment.
A WIDE RANGE OF ATTACHMENTS FOR MORE VERSATILITY A wide range of attachments is available to fit the skid-steer-style attachment of the LM5.25 or the Manitou-style attachment of the LM6.28, including:
Buckets for heavy digging or moving high volumes of loose material
Hay handling grabs, spears, forks and grapples for bales of any size and shape
Pallet forks for handling palletized materials
Many other specialized skid steer or Manitou-style attachments 
Specifications
Model
LM5.25
Max. lift capacity
 
Max. lift capacity lbs. (kg)
5,512 (2500)
Max. lift height
 
Max. lift height ft. (m)
18.9 (5.78)
Boom suspension
 
Smooth Ride Control
- boom suspension
Optional
Engine
 
Type.
4 Cylinder Tier 4 Common Rail
Displacement cu.in. (L)
203 (3.3)
Aspiration
Turbo
Max. power ISO14396 -
ECE R120 @ rpm hp (kW)
74.3 (55.4) @ 2600
Max. torque ISO14396 -
ECE R120 @ rpm ft. lbs. (Nm)
210 (286) @ 1850
Cold climate start device
Standard
Transmission
 
Variable capacity hydrostatic
Hydro single speed
Service Brakes
 
Actuation
Hydraulic power assisted
Type
Oil immersed discs
Discs per axle
6
Axles
 
Differential lock
Front
Capacities
 
Hydraulic oil gal. (L) (Litres)
24.3 (92)
Fuel gal. (L) (Litres)
21.1 (80)
Hydraulics
 
Gear pump gpm (l/min)
21.1 (80)
Hydraulic controls
Proportional
Joystick with Proportional
Controls
Standard
Joystick with Proportional
and flow sharing controls
Optional
Joystick with Proportional
and F-N-R integrated controls
Optional
Cab
 
Max noise level (dB(A))
80
Vision (°)
360
Adjustable steering column
Standard
Power steering
2WS / 4WS / Crab
Rotating beacon
Standard
Mechanical seat
Optional
Deluxe seat with
pneumatic suspension
Standard
Heater
Standard
Air conditioning
Standard
Two cab pilot lights for
steering alignment (LM6.28 only)
-
Sun visor (LM5.25 only)
Standard
Cab comfort kit - sun visor,
oddments holder, phone holder
, inclinometer
-
Reverse alarm
Standard
Lighting
 
Front work lights on top of cab x 2
Optional
Rear work lights on top of cab x 2
Optional
Boom work lights
Optional
Wheels & Tires
 
Standard
12x16.5 Industrial
Optional
12x18