New Holland T6.145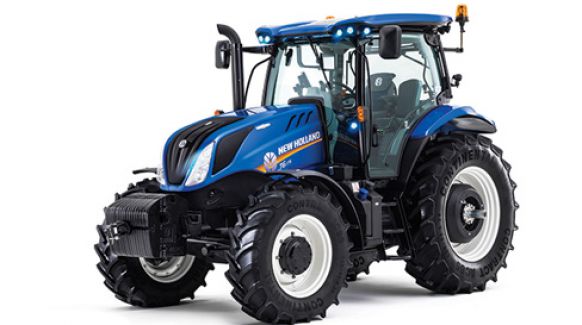 Double tap to zoom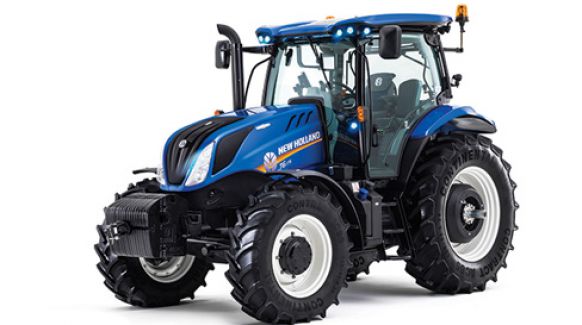 Features
POWERFUL PRODUCTIVITY
Choose from five models from 95 to 125 PTO hp with enormous 42% torque rise plus up to an additional 34 hp from Engine Power Management.
TAILORED FOR YOU
An endless list of options includes a front hitch and PTO, a choice of front axles and seats, as well as a choice of transmissions
COMFORTABLE HORIZON™ CAB
At New Holland, we believe a long, hard day in the field shouldn't feel like one. That's why we designed the Horizon™ cab for day-long comfort and productivity.
FLEXIBILITY GUARANTEED
The T6 has you covered, from haymaking to loader work and row-crop applications.
Specifications
| | |
| --- | --- |
| Model | T6.145 |
| Power |   |
| Engine Type | Turbo Diesel with High Pressure Common Rail with Electronic Fuel Delivery Control  |
| Make / Model | Fiat Powertrain Technology (FPT) NEF |
| # of Engine Cylinders | 4 |
| Displacement [cu. in. (L)] | 274 (4.5) |
| Valves per Cylinder | 4 |
| Rated Engine Speed (rpm) | 2200 |
| Aspiration | Turbo Charger with Air-to-Air Intercooled |
| Max Boosted Engine HP | 145 |
| Rated Engine HP | 116 |
| PTO HP | 95 |
| Engine Speed at PTO Speed 540/1000 | 1969/1893 |
| Emissions Certificate | Tier 4B/Final |
| Tier 4B Emissions System | ECOBlue™ HI-eSCR System (Selective Catalytic Reduction; After Treatment only)  |
| Diesel Fuel Tank Capacity [gal. (L)] | Standard Tank - 52.2 Gal (197.2), with Auxiliary Tank - 58.6 Gal (222) |
| DEF (AdBlue®) Tank Capacity [gal. (L)] | 10.4 Gal (39.5) |
| Service Interval eng. Hours | 600 |
| Electrical |   |
| Alternator | 120 Amp Std. Value & Plus, 150 Amp Std. Elite and Auto Command with 200 Amp Opt.  |
| Battery | 12 volt, 1300 CCA |
| ISO BUS Class 2 (Optional with Plus and Elite, Standard on AC)  | Optional |
| ISO BUS Class 3 (Optional on Auto Command Tractors only)  | Optional |
| Transmission |   |
| Standard- Semi-Power Shift mph (kph) | 16x16 Electro Command™ 1.41-25 (2.27-40) |
| Option 1 - with Creeper Gear mph (kph) | 32x32 Electro Command with AutoShift and Creeper 0.12-25 (.19-40) |
| Option 2 - with AutoShift mph (kph) | 16x16 Electro Command with AutoShift 1.41-25 (2.27-40) |
| Option 3 - Economy mph (kph) | 17x16 Electro Command with AutoShift 1.67-25 (2.68-40) |
| Option 4 - Fast Mover mph (kph) | 17x16 Electro Command with AutoShift 1.67-31 (2.68-50) |
| Standard Auto Command™ CVT mph (kph) | 0.01-25 (.01-40) |
| Optional Auto Command™ CVT mph (kph) | 0.01-31 (.01-50) |
| 3 Point Hitch |   |
| Standard Lift Capacity - 80mm rams with 21.1 gpm fixed pump (Value) lbs. (kg)  | 8,338 (3782) |
| Standard Lift Capacity - 80mm rams with 33.5 gpm CCLS pump (AC) lbs. (kg) | 9,214 (4179) |
| Optional Lift Capacity - 90mm rams with 29.9/33.5 gpm CCLS pump (Plus, Elite, AC) lbs. (kg)  | 11,649 (5284) |
| Hydraulics |   |
| Fixed Displacement Implement Pump Flow - Value [gpm (l/m)] | 21.1 (80) |
| Steering Pump Flow [gpm (l/m)] | 12.4 Gal/Min. (47) |
| CCLS Hydraulic Implement Pump Flow- Plus & Elite [gpm (l/m)] | 29.9 Gal/Min. (113) |
| CCLS Hydraulic Implement Pump Flow- Auto Command [gpm (l/m)] | 33.5 Gal/Min. (127) |
| Deluxe Rear Remote Options (N/A on Auto Command) | 2 Mechanical Remotes Standard with 3 and 4 remotes Optional |
| Electrohydraulic Rear Remote Options | 3 Electro Hydraulic Remotes Standard on AC with 3 & 4 Optional on Elite, 4 on AC |
| Mid-Mount Valve Options | 2 or 3 Mechanical or 2 or 3 Electro-hydraulic |
| Axles |   |
| Axle Class | 3 & 4 |
| Option 1 | Standard Front Axle |
| Option 2 | Suspended Front Axle |
| Option 3 | Supersteer Front Axle |
| Weight* |   |
| Shipping Weight (Typical Weight, less ballast, Cab 4WD) - Minimum [lbs. (kg)] | 10,560 (4790) |
| Shipping Weight (Typical Weight, less ballast, Cab 4WD) - Average [lbs. (kg)] | 11,376 (5160) |
| Shipping Weight (Typical Weight, less ballast, Cab 4WD) - Maximum [lbs. (kg)] | 12,513 (5676) |
| Dimensions** |   |
| Overall Length [in. (mm)] | Standard Front Axle - 179" (4547), Suspended FWD - 179.4" (4556), SuperSteer - 183.3" (4655) |
| FWD Wheelbase [in. (mm)] | Standard FWD - 104" (2642), Suspended FWD - 105.7" (2684), SuperSteer FWD - 109.8" (2788) |
| Height, Top of Cab [in. (mm)] | High Roof - 115.2" (2925), Low Roof - 110.5" (2712)  |
| Height, Top of Exhaust [in. (mm)] | High Roof - 114.8" (2915), Low Roof - 109.1" (2770)  |