New Holland T7.230 SideWinder II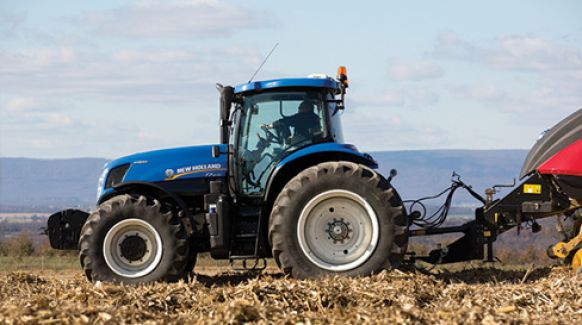 Double tap to zoom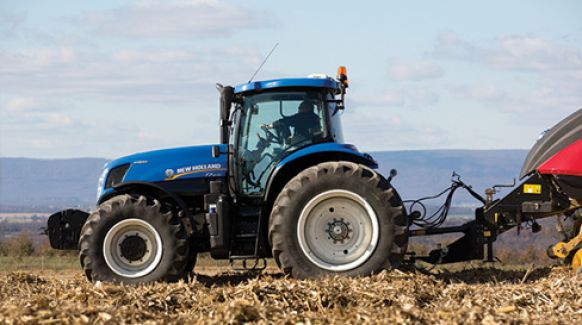 Features
CLEANER, MORE PRODUCTIVE POWER
T7 tractors boast New Holland's cutting-edge and award-winning ECOBlue™ HI-eSCR (High-Efficiency Selective Catalytic Reduction) engine technology for Tier 4B emissions compliance, with absolutely no change in operation.
EXCEPTIONAL VISIBILITY AND DRIVING EASE
New best in class lighting packages, upgraded seat options, Comfort Ride™ cab suspension and innovative easy-to-use controls improve operator comfort and productivity.
REDUCE YOUR OPERATING COST
The ECOBlue™ HI-eSCR technology further reduces engine emissions and also maintains the low fuel consumption that you've come to expect from New Holland.
EVEN MORE VERSATILITY
The nine-model T7 Series line-up provides a choice of engine power, hydraulic options and transmission choices for every application.
Specifications
| | |
| --- | --- |
| Model | T7.230 SideWinder II |
| New Holland Engine* | Nef |
| No. of cylinders / Aspiration / Valves / Emission level | 6/ T / 4 / Tier 4B |
| Selective Catalytic Reduction (SCR) system | Standard |
| Fuel system - high pressure common rail | Standard |
| Max. EPM horsepower - ISO TR14396- ECE R120 [hp[CV] (kw)] | 225 (165) |
| Rated engine horsepower - ISO TR14396- ECE R120 [hp[CV] (kw)] | 180 (132) |
| PTO horsepower hp (kw) | 150 (110) |
| Rated engine speed (rpm) | 2200 |
| Viscous coupled cooling fan | Standard |
| Reversible fan | Optional |
| Exhaust brake | Optional |
| Diesel tank capacity [gal (Liters)] | 104 (395) |
| DEF/AdBlue® tank capacity [gal (Liters)] | 13 (48) |
| Power Command™ Transmission |   |
| Power Command™ full-powershift (40 kph) | Optional |
| Number of gears / with creeper (F x R) | 18 x 6 / 28 x 12 |
| Min. speed / Min. speed with creeper mph (kph) | 1.2 / 0.2 (1.98 / 0.33) |
| Power Command™ full powershift (40 kph ECO or 50 kph) | Optional |
| Number of gears / with creeper (F x R) | 19 x 6 / 29 x 12 |
| Min. speed / Min. speed with creeper mph (kph) | (1.2 / 0.2) 1.98 / 0.34 |
| Auto Command™ Transmission |   |
| Auto Command™ continuously variable transmission (40 kph ECO) | Standard |
| Min. speed / Max. speed (mph) | 0.02 / 25 @ 1450 rpm |
| Auto Command™ continuously variable transmission (50 kph ECO) | Optional |
| Min. speed / Max. speed (mph) | 0.02 / 31 @ 1550 rpm |
| Hydraulics |   |
| Closed Center Load Sensing (CCLS) | Standard |
| Main pump flow Standard / MegaFlow™ option*** gpm (Lpm) - (Range & Power Command) | 32 / 39.5 (120 / 150) |
| Main pump flow Standard / MegaFlow™ option (Auto Command) | 39.5 / 45 (150 / 170) |
| Electronic Draft Control (EDC) | Standard |
| Remote Valves |   |
| Type | Electro Hydraulic |
| Max. no. rear valves | 5 |
| Joystick control | Optional |
| Max. no. mid mount valves | 3 |
| Front loader ready | Optional |
| Rear Linkage | Standard |
| Front Linkage | Optional |
| PTO |   |
| Auto soft start | Standard |
| Engine speed at 540 / 1000 (rpm) | 1893/1950 |
| Engine speed at 540E / 1000 (rpm) | 1569/1893 |
| Engine speed at 1000 / 1000E (rpm) | 1912/1583 |
| 540 / 540E / 1000 / 1000E shiftable | Not available |
| Auto PTO management | Standard |
| Front PTO (1000rpm) | Optional |
| Cab |   |
| Comfort Ride™ cab suspension | Standard |
| Headland Turn Sequence II System (HTS2) | Standard |
| IntelliView™ IV large screen 10.4" display | Standard |
| ISO 11783 connector | Standard |
| IntelliSteer™ auto guidance | Optional |
| Axles |   |
| 4WD front axle | Standard |
| Suspended front axle | Optional |
| Supersteer™ front axle | Optional |
| Steering angle standard / Terraglide™ / SuperSteer™ axle (°) | 55 / 55 / 65 |
| Bar rear axle | Optional |
| Wheelbase |   |
| Standard front axle | 113.5 (2884) |
| Suspended front axle | 113.5 (2884) |
| Supersteer™ front axle | 117.2 (2977) |
| Weights |   |
| Minimum unballasted / shipping weight - Standard front axle lbs (kg) | 15,322 (6950) |
| Minimum unballasted / shipping weight - Terraglide™ suspended front axle lbs (kg) | 16,094 (7300) |
| Minimum unballasted / shipping weight - SuperSteer™ front axle lbs (kg) | 15,653 (7100) |
| Max. permissible weight at 50 kph lbs (kg) | 28,660 (13000) |