Kuhn VSA 360 H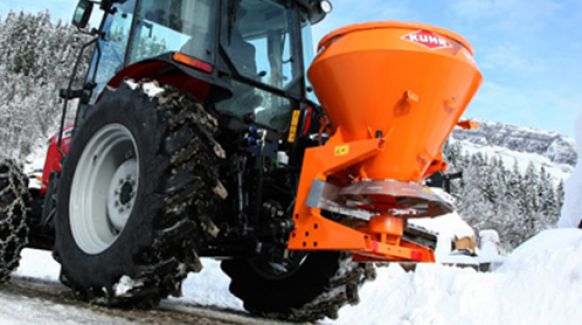 Double tap to zoom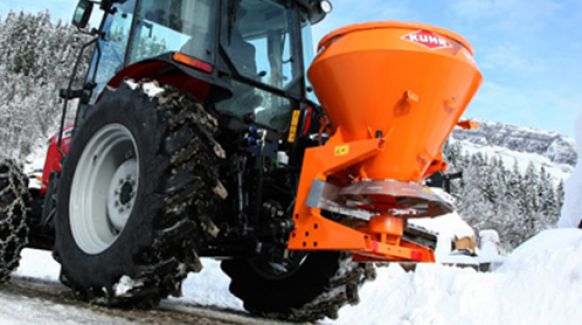 Features
Quick and Accurate Adjustment
The application rate is rapidly adjustable, thanks to a movable stop and a precisely graduated adjustment plate. A lever controls the outlet opening and closing. If needed, application can be set only to the right or the left side.
Adjustable Deflectors to Control the Spreading Width
The VSA, equipped with stainless steel adjustable deflectors, allows operators to quickly and easily change from a narrow spreading width on sidewalks to a wider spreading width on roads or parking lots. Adjustable deflectors control the spreading width from 3' to 30'.
Quality Distribution
The hopper base, with stainless-steel outlets, is adjustable: whatever the product, this provides perfect distribution quality. An agitator stirs the product and provides regular flow to the outlets in non-free flowing materials.
Easy Maintenance
Only a few minutes are needed to take apart the main components of the VSA making cleaning and maintenance a breeze. The gearbox never requires maintenance.
Permanently Useful
After the rigors of winter, the Kuhn VSA spreaders can also be used for fertilization or sand spreading of parks or green spaces.
Specifications
| | |
| --- | --- |
| Hopper capacity (l) | 360 |
| Drive | Mechanical or hydraulic |
| Application rate control | By outlets with adjustable opening |
| Working width (feet) | 2'11" / 0.9 to 29'6" / 9 |
| Hopper width depending on extension (inches) | 4" / 100 |
| Weight (lb) | 254 / 115 |