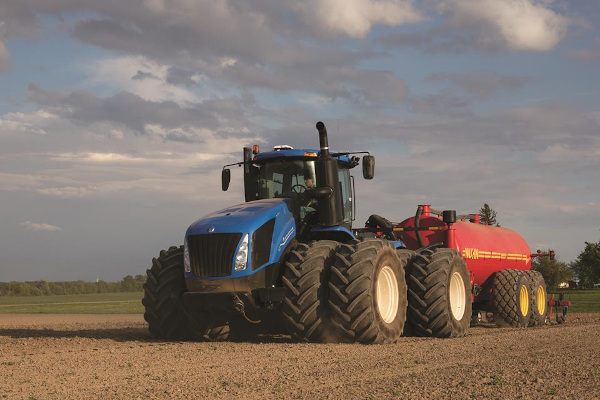 Features
ULTIMATE POWER
T9 models range from 425 to 682 max hp, with traditional Ultra Command™ full powershift transmission or the NEW Auto Command™ CVT, in wheeled models or your choice of TWO SmartTrax™ designs. 
CAB ENHANCEMENTS
With all the hours you spend in the field, shouldn't work feel a little more like home? We think so. That's why we've added more accessible storage, power ports, HVAC vents, egress lights and the most comfortable seat outside of your living room.
MAXIMUM VERSATILITY
The new IntelliView™ 12 display and Sidewinder™ Ultra armrest is second to none!  We built your control package around the revolutionary idea that customer adjustments should come standard to increase your operator and fleet.
CONNECTED MACHINE
Added connectivity provides more support features, reducing downtime and keeping operators in the field. Remote display viewing allows a manager or dealer to view exactly what an operator is seeing on the IntelliView™ 12 display.
Specs
| | |
| --- | --- |
| MODEL | T9.600 Wheeled and SmartTrax™ |
| Engine* | FPT Cursor 13 Two-stage Turbo |
| No. of cyl. / Aspiration / Valves | 6/WT/4 |
| Cylinders / Valves / Displacement cu. in. (L) | 6/24/787 (12.9) |
| Tier 4B / ECOBlue™ HI-eSCR system (Selective Catalytic Reduction) | Standard |
| Approved biodiesel blend** | B7 |
| Max. EPM horsepower @ 1,900 rpm CV hp (kW) | 605 (451) |
| Rated horsepower @ rated RPM per SAE CV hp (kW) | 535 (399) @ 2,100 rpm |
| PTO power @ rated 1,811 engine rpm CV hp (kW) | 530 (396) |
| Max. torque - ISO TR14396 lbs. ft. (Nm) | 1873 (2540) @ 1400 |
| Torque rise % | 40 |
| Viscous coupled cooling fan | – |
| Hydraulically driven cooling fan | Standard  |
| Automatic exhaust brake | Optional  |
| Diesel capacity (Wheeled) gal. (L) | 307 (1162) |
| Diesel capacity (Track) gal. (L) | 307 (1162) |
| AdBlue tank capacity gal. (L) | 66 (250) |
| Service interval hours | 600 |
| Ultra Command™ transmission |   |
| Ultra Command™ transmission | Optional |
| IntelliShift™ System | Standard |
| Ground Speed Management (GSM) | Standard |
| Number of gears / with Creeper F x R | 16 x 2 |
| Min. speed / Max. speed (Wheeled) mph (kph) | 2.5/25 (4/40) |
| Min. speed / Max. speed (Track) mph (kph) | 2.5/19 (4/31) |
| Auto Command™ Continuously Variable Transmission |   |
| Auto Command™ Continuously Variable Transmission | Optional |
| Powershuttle lever with aggressiveness setting switch | Standard |
| Active StopStart function | Standard |
| Force base propulsion control | Standard |
| Auto Command™ Continuously Variable Transmission (40 kph ECO) | Standard |
| Min. speed / Max. speed (Wheeled) mph (kph) | 0.10/25 (0.16/40) |
| Min. speed / Max. speed (Track) mph (kph) | 0.10/19 (0.16/31) |
| Configurations |   |
| Track Belts in. (mm) | 36 (914) Standard Track |
| Frame width Wheeled/Track in. (mm) | 44 (1118)/44 (1118) |
| Electrical |   |
| Alternator/Battery/Electrical Cutoff Switch CCA | 12 V 240 amp/two 1,000 cranking amps/Yes |
| Axles |   |
| 4WD front axle | Standard |
| Articulation angle Wheeled/Standard Tracks degrees | 38 |
| Turning radius in. (mm) | 224 (5690) |
| Front & Rear Diff-lock | Standard |
| Hydraulics |   |
| Closed Center Load Sensing (CCLS) | Standard |
| Main pump flow (Standard on full PowerShift)/ High flow option (Standard on CVT) gpm (LPM) | 42/57 (159/216) |
| Optional MegaFlow™ II option pump flow Standard / High flow (Total flow available across all remotes) gpm (LPM) | 98/113 (371/428) |
| Electronic Draft Control (EDC) | Standard |
| Remote valves |   |
| Type | Electro hydraulic |
| Max. no. rear valves | 8 |
| Joystick control | Optional |
| Rear linkage | Optional |
| Rear linkage category | IV-N |
| Max. lift capacity through the range (610 mm behind ball ends) lbs. (kg) | 19,621 (8900) |
| Rear PTO |   |
| Rear PTO | Optional |
| Auto Soft Start | Standard |
| Engine speed at 1000 rpm engine rpm | 1800 |
| Brakes |   |
| Automatic exhaust brake | Optional |
| Electronic park brake | Standard |
| Hydraulic trailer brakes | Optional |
| Cab |   |
| Volume (size) / Glass 132 cu ft/88.1 sq. ft. | Standard |
| 360° 4 pillar cab with FOPS - OECD Code 10 Level 1 | Standard |
| Cab category level - EN 15695 | 2 |
| High visibility RHS window | Standard |
| HID lighting pack | Optional |
| SideWinder™ Ultra armrest | Standard |
| CommandGrip™ handle | Standard |
| Manual adjustment of SideWinder™ Ultra armrest | Standard |
| Air conditioning | Standard |
| Automatic climate control | Standard |
| Air recirculation filters | Standard |
| MP3 Radio with weather channel | Optional |
| Telescopic mirrors | Optional |
| Electronic remotely adjustable mirrors | Optional |
| Comfort Ride™ cab suspension (Standard on track models) | Optional |
| Custom Headland Management (HST II) | Standard |
| A pillar Performance Monitor with enhanced key pad | Standard |
| IntelliView™ IV color monitor with ISO 11783 connector | Standard |
| IntelliSteer™ guidance ready | Standard |
| PLM® Connect Telematics (Telematics components standard. Subscriptions optional) | Optional |
| Optimum cab noise level EC 77/311 dB(A) | 74 |
| Factory fit rotating beacons (1 / 2) | Optional |
| Weights |   |
| Wheel Models - Base Shipping Weight lbs. (kg) | 45,325 (20,559) |
| Wheel Models - Max Gross Vehicle Weight lbs. (kg) | 56,000 (25,401) |
| Track Models - Base and Max Gross Vehicle Weight lbs. (kg) | 63,700 (28,894) |
| Dimensions |   |
| With rear tire size | 710/70R42 - Singles |
| Overall length including front weight pack and rear drawbar in. (mm) | 291.0 (7393) |
| Min. width across bar axle in. (mm) | 120.0 (3048) |
| Height at center of rear axle to top of cab in. (mm) | 110.0 (2794) |
| Overall height in. (mm) | 151.3 (3843) |
| Wheelbase in. (mm) | 147.9 (3759) |
| Ground clearance (depends on drawbar) in. (mm) | 17.4 (443) |
| Width at fenders in. (mm) | 100.35 (2549) |